local seo

Accurate, up-to-date information across the internet builds credibility and trust with search engines, making them more likely to pull your business up in search.
get found wherever
consumers are searching
Inconsistent business information across online maps, apps, directories, GPS devices, social networks & search engines cost you real sales. Our service lets you control your company listings across 60+ local listing partners, including Google, Facebook, Yelp, Yahoo, Apple Maps, and Bing.
Do you know what your business listings look like? Let's find out!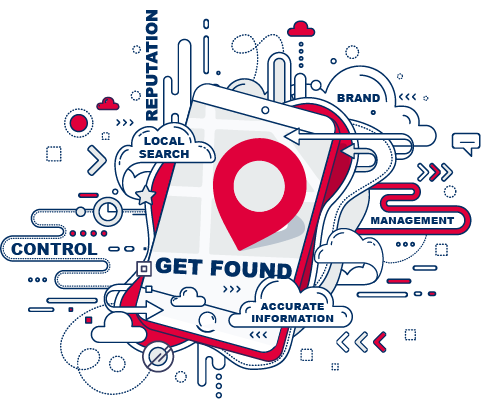 why does your company need
core local®?
Having consistent data across the web helps build your credibility with search engines. Keeping your information accurate and up-to-date builds trust with your customers and enhances your online reputation. Use your Core Local® dashboard as a one-stop-shop to keep your data organized, all in one convenient place.
Outdated information from old listings lurking on the web can harm your SEO. Through duplicate suppression, our technology keeps old, outdated information at bay, ensuring only the information you want representing your business is displayed accurately online.
Ever wonder how well your competitors are performing in local search? Use our analytics to compare how you are performing in local search vs. your competitors, track the performance of five custom keywords, and get valuable insights into customer interactions on your listings.
Review Monitoring and Response
Stay informed about what customers are saying about your business online. Get a text or email anytime a review is left on any of our synced listing sites. Use your phone or dashboard to stay on top of your reviews and respond to them swiftly. Statistics (should we say "according to Yext data"?) have shown that businesses that respond to 60% of reviews see an average .28 increase in their star rating.
Do you ever wish your business had more reviews? Make your wish come true and gain more reviews online by using Core Local®'s Review Generation Tool. Now you will be able to send emails directly to your customers asking them for their valuable feedback on either Google My Business or Facebook.*
 Is your business being haunted by outdated menu pricing? When you bundle Core Local® and website services together, through the power of Core Local®, your menus and/or services lists can be embedded from Core Local® into your website.* This means that any edits that are made to your menu or services in Core Local® will instantly update on your website. Another easy way to keep your information accurate and up-to-date.
In addition to 24/7 access to your Core Local® dashboard, our dedicated support team is standing by if you ever have any questions or need additional assistance with your dashboard or listings.
*Some restrictions may apply.
Core Local®
Frequently asked questions
What is Core Local®?
Core Local® helps you manage your local listings so you can perform better in local search results and your customers will find the information they need. Core Local® puts you in control of the facts about your business across 70+ digital services, including Google, Amazon Alexa, Apple, Bing, Facebook, Yahoo, and Yelp.
Why do I need to keep this service monthly?
Search engines and other listing sites are constantly updating. Without Core Local® to lock your listings down, you never really know what information these listing sites will find and update your listings to reflect.
Can I post to social media with my Core Local® dashboard?
Yes! You can create, post, schedule, and manage posts on Facebook and Google with your dashboard if you choose to link those accounts.
What is included in my monthly fee?
24/7 access to your Core Local® dashboard and it's features, review notifications, a monthly analytics report, duplicate listing suppression, data structuring, and dedicated support.
Do you offer text alerts?
Yes! If you register your phone number with Core Local®, you will receive review notification texts, be able to respond to those texts, get holiday hours reminders, and more!
Why do these listing sites I've never heard of matter? Isn't Google the only one that matters?
Search engines like Google reward companies who have consistent business information across all platforms on the internet. You may think people don't use these listing sites, but they do matter to the overall SEO of your business.
How will I know if this is working?
We will provide you with the log in information to you Coral Local® dashboard. Here, you will be able to view your analytics, manage reporting settings, and monitor reviews across all listings. We also send a monthly analytic report straight to your email address.
Can this service help me get more reviews?
Yes! By utilizing Core Local®'s Review Generation tool, you can send emails to your customers asking them for feedback.
What will Core Local® be doing for me on a monthly basis?
Core Local®'s Knowledge Graph will keep your data structured to potentially strengthen your SEO. In addition to this, you get ongoing review notifications, as well as, useful analytic insights into your customer actions such as, how many website clicks and number of phone calls made.
Do you offer any Core Local® dashboard training?
Yes! Once your account is set up, please email service@core-local.com if you are interested in setting up a Core Local® dashboard training call.
Talk to a representative today
Have Questions? Let's chat!